The Dutch flag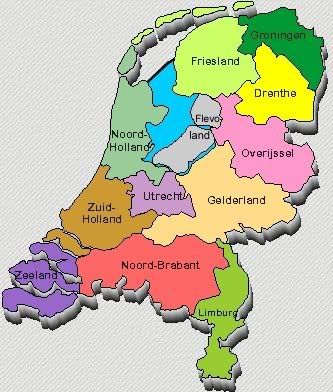 The Netherlans are divided in 12 provinces.

1 History
Dutch Republic 1581–1795 founded by the Prince of Orange, William the Silent, ancestor of the House of Orange.Before that time we were part of the Spanish Kingdom.

Under French influence 1795–1815. We were part of the French Empire under Napoleon. When Napoleon was defeated we became independent again as a kingdom.

Kingdom of the Netherlands from 1815-till today. We had first three kings, then three ruling Queens. Queen Beatrix is our queen at this moment.

The Netherlands is a country that is part of the Kingdom of the Netherlands. It is a parliamentary democratic constitutional monarchy. The Netherlands is located in Northwestern Europe, and bordered by the North Sea to the north and west, Belgium to the south, and Germany to the east. The capital is Amsterdam and the seat of government is The Hague.

The Netherlands is often called Holland, which is formally incorrect as North and South Holland are merely two of its twelve provinces. The word Dutch is used to refer to the people, the language, and anything appertaining to the
Netherlands.
That's my World is hosted by Klaus,Sandy,Ivar,Wren,Fishing Guy & Louise - a Team of experienced bloggers, whom we thank for this wonderful meme. You can see more of the world of other bloggers by clicking on the logo in the side bar