Malala Yousafzai: 'Nobel award is for all the voiceless children'
At 17, campaigner Malala, the schoolgirl the Taliban could not silence, becomes youngest Nobel peace prize recipient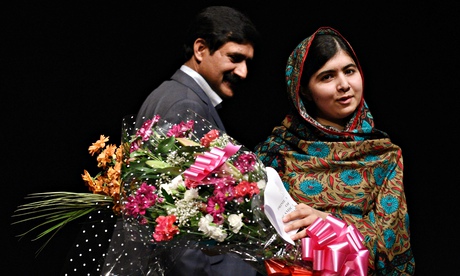 Malala Yousafzai once wrote: "We realise the importance of our voices only when we are silenced. I was shot on a Tuesday at lunchtime, one bullet, one gunshot heard around the world."
Two years and a day after her attempted assassination by Taliban gunmen, that shot continued to reverberate with the Nobel committee's announcement that the 17-year-old Pakistani schoolgirl is to share the peace prize, its youngest recipient ever.
When the news broke, Malala was in a chemistry class at Edgbaston high school for girls, Birmingham, far away from the mountain-fringed city of Mingora in the picturesque Swat valley where she was born, and where she began her outspoken campaign for the right to education, and where she almost died on 9 October 2012.
Malala – a name now instantly recognisable worldwide – shares the 8m kronor (£690,000) prize with Kailash Satyarthi, 60, an Indian child rights campaigner, as both are lauded for their "struggle against the suppression of children and young people".
Malala's campaign, noted the Nobel committee, has been carried out "under the most dangerous circumstances", and it places her alongside previous recipients Nelson Mandela, Martin Luther King and Aung San Suu Kyi.
Congratulations to Malala Yousafzai!
She is still a teen-ager, and she has done something so important and great, that nobody will ever forget her. Taliban has drawn the attention to this girl and to all the girls who are not allowed to go to school.