Loch Katrine
Loch Katrine
Nine years ago I had a holiday in Scotland. We made a boattrip on Loch Katrine which was really beautiful and peaceful like in the fjords of Norway and yet....
Norway has no castles like Scotland, but typically Norwegian farmbuildings with grassroofs.
The other two lochs we saw were Loch Lomond and of course Loch Ness!! But Nessie kept quiet and didn't show himself. May be he was intimidated by the Dutch language.
With thanks to Denise Nesbitt, who created ABC, and thanks to Roger. For more interesting ABC posts click on the logo in the sidebar. This week we are looking for words beginning with L.
What does the Loch Ness Monster look like?
It has a brown body with 4 flippers. Has a dragon like head. There is allot of evidence to prove that the Loch Ness Monster does really exist.
Alternative answer: There is absolutely no scientific evidence to prove that a 'monster' exists in Loch Ness. Many people believe that the 'monster' story was simply dreamed up to atract tourists, if this is true it has certainly worked. Those who believe in the 'monster' seem to think it is some sort of marine dinosaur yet seem unable to explain what a creature that has been believed extinct for tens of millions of years is doing in a Scottish loch which was buried under a kilometre or more of ice during the last Ice Age, only ten thousand years ago.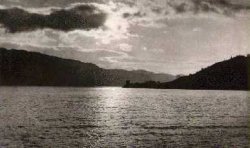 Although Nessie was sighted as far back as the 6th century a.d. it is the modern day sightings that have captured the public imagination.
In the early part of the 1930's a new road was built around Loch Ness which in turn brought in a spate of new sightings from road users and sightseers. Up until this time stories of the monster circulated more within the local community but talk of other sightings were spreading outwith the village.
The first recorded sighting of Nessie on land was made by Mr Spicer and his wife, on July 22nd 1933, who were driving down the road between the Loch Ness side villages of Dores and Inverfarigaig. They caught sight of a large cumbersome animal crossing the road ahead, which was some 20 yards from the water. They first saw a long neck, forming a number of arches, a little thicker than a elephant's trunk and a huge lumbering body heading towards the Loch. It disappeared into the bushes out of sight. After this sighting reports flooded in and interest grew on an international scale. Speculators offered huge prizes for the animal, dead or alive.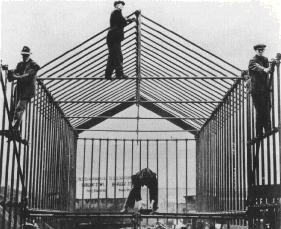 Circus owner Bertram Mills promised a sum of £20,000 to any man who could bring the creature alive to his circus.



On the 5th of January, 1934, a motorcyclist almost collided with the monster as he was returning home from Inverness. It was around 1a.m. and was bright due to the moonlight. As Mr Grant approached Abriachan on the north-eastern shore of the Loch he saw a large shape loom on the right side of the road.As he approached the object he saw a small head attached to a long neck.The animal saw Grant and promptly crossed the road back down to the Loch. Mr Grant, by this time, had jumped off his motorbike and followed the path it took to the Loch only to see the rippling water where thecreature had entered.In April,1934 the most famous photograph was obtained by a London surgeon as he heading towards Inverness along the new road.



The Surgeon's picture. There is some dispute as to the authenticity of this photograph.