Cyclone Ita: north Queensland residents told to prepare or evacuate
Cyclone has been upgraded to the highest possible rating and is expected to make landfall about 7pm on Friday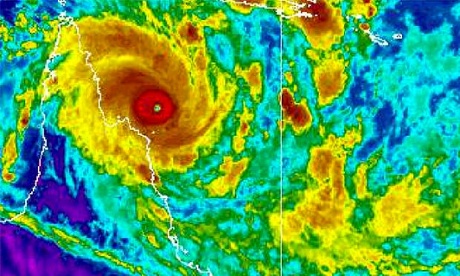 More than 9,000 residents of far north Queensland coastal communities in the path of tropical cyclone Ita have been warned to expect "very destructive winds" and possible flash flooding as the giant category-five weather system bears down.
The severe tropical cyclone, which was upgraded to the highest possible rating on Thursday afternoon, is expected to make landfall between Cape Melville and Cooktown about 7pm on Friday.
The mayor of Cook Shir, Peter Scott, has urged residents in the area to secure their properties by noon before gales of 125km/h are expected to hit.
"People should be making their final preparations now," Scott told Australian Associated Press. "The big message is that people need to stay indoors once those strong winds start."
Residents of Cooktown, a town of 2,300 people that was last hit by a cyclone in 1949, said strong gusts had already picked up on Friday morning.
Lots of people left town this morning, got their family out of here. And everyone who can is up at the evacuation centre."
Residents of low-lying areas as far south as Cairns were urged to be ready to evacuate should Ita suddenly change course. They were warned the cyclone could produce storm surges up to two metres high.
Newman told a news conference in Cairns on Friday that cyclone shelters in the two towns in the path of the cyclone, Hope Vale and Cooktown, were still open and had plenty of room.
Residents of these towns should be prepared for cuts in phone services and power outages that could last as long as four weeks, he said. Disaster recovery officials had formulated plans to house people, "assuming a large number of houses are rendered uninhabitable".
He said all the possible preparations had been made. "It's not in our hands. It's in the hands of the gods."
Newman also warned of "very intense rain causing quite severe local flooding". "We could see hundreds of millimetres of rain in certain catchments. Fast-rising rivers and creeks and also the problems in some suburban areas, potentially as far south as Cairns," he said.
Though the eye of the storm is expected to focus on a remote, sparsely populated stretch of the Queensland coast, the Bureau of Meteorology warned that destructive winds of up to 125km/h, or faster, could extend as far south as Port Douglas on Friday, and onto Cairns and Innisfail on Saturday.
"The cyclone is expected to be weakening over land overnight, however, there remains the possibility that Ita will track southwards close to the coast tonight and maintain cyclone intensity for longer during Saturday," it said.
"Should this occur destructive winds with wind gusts to 150km/h are possible at Port Douglas and Cairns during Saturday."
Heavy rain and the risk of flash flooding will persist into the weekend, the bureau said.
A cyclone watch extends to the far inland communities of Laura, Kalinga, Palmerville, Mareeba and Chillagoe.